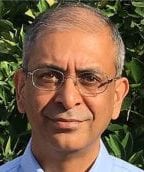 Naresh C. Samtani

PhD, PE, D.GE, F.ASCE
President, NCS GeoResources, LLC
Education
PhD / 1991 / Emphasis: Geotechnical Engineering / University of Arizona, Tucson
ME / 1986 / Emphasis: Geotechnical Engineering / L.D. College of Engineering, Gujarat University, India
BE / 1984 / Civil Engineering / L.D. College of Engineering, Gujarat University, India
Registration
Professional Engineer: Arizona #32901
Professional Engineer: New Mexico #14377
Work History
2005 – Present: President, NCS GeoResources, LLC, Tucson, AZ
2003 – 2015: President, NCS Consultants, LLC, Tucson, AZ
1998 – 2003: Principal Engineer & Manager, Geotechnical Services, URS (Arizona, New Mexico)
1991 – 1998: Staff to Lead Geotechnical Engineer, Parsons Brinckerhoff, New York, NY
1987 – 1990: Teaching and Research Associate, University of Arizona, Tucson, AZ
1984 – 1986: Assistant Engineer (Civil), Narmada Canal Project, Gujarat, India
Key Professional Experience
Dr. Samtani has performed and directed analysis, design and field investigations for a variety of multi-disciplinary infrastructure projects, including highways and bridges in different parts of the country. Dr. Samtani has worked on geotechnical aspects of hundreds of bridges and retaining walls, several ground improvement projects, and hundreds of lane miles of flexible and rigid pavements. As part of his work he has been involved in providing pre-design, design concept, preliminary design, final design, post-design, asset management, forensic, expert consultation, research and development, and training services. Dr. Samtani has provided geotechnical engineering services for agencies from township, county, state to federal level.
Dr. Samtani is a Certified Instructor for the National Highway Institute (NHI) of the Federal Highway Administration (FHWA) and has taught courses to many Departments of Transportation (DOTs) and local agencies on a variety of geotechnical topics including Load and Resistance Factor Design (LRFD) for Bridge Substructures and Retaining Walls. In addition to authoring or co-authoring over 15 manuals for several agencies (e.g, FHWA, AASHTO, and DOTs), he has developed and teaches a set of 20 webinars and virtual workshops for the American Society of Civil Engineers (ASCE) for various geotechnical features. He has helped develop implementation processes and comprehensive design policies for variety of topics for bridges, walls, pavements, and scour for several agencies with emphasis on multi-disciplinary interaction between geotechnical, structural, drainage, roadway, and construction specialists.
Publications
See Publications page.
Awards
Gold-medalist – Top rank in graduating civil engineering class of 1984 – Gujarat University, India.
Centennial Distinguished Alumnus, 2005 – Department of Civil Engineering and Engineering Mechanics, University of Arizona, Tucson, AZ. Dr. Samtani was one of the only four (4) inaugural recipients selected from a time span of 100 years of the Department.
Fellow – American Society of Civil Engineers (ASCE), elected 2011.
Diplomate (Board Certified Geotechnical Engineer) – Academy of Geo-Professionals of American Society of Civil Engineers, elected 2011.
2010 Engineer of the Year, Arizona Society of Professional Engineers, Southern Chapter.
Certified Instructor by the National Highway Institute (NHI) of the Federal Highway Administration (FHWA).
The "Oosik" Award for Best Technical Presentation and Project from Hell: 2003 Northwest Geotechnical Workshop, Portland, OR.
Testimonials
See Testimonials page.